Insights
Creative thinking, implementing strategies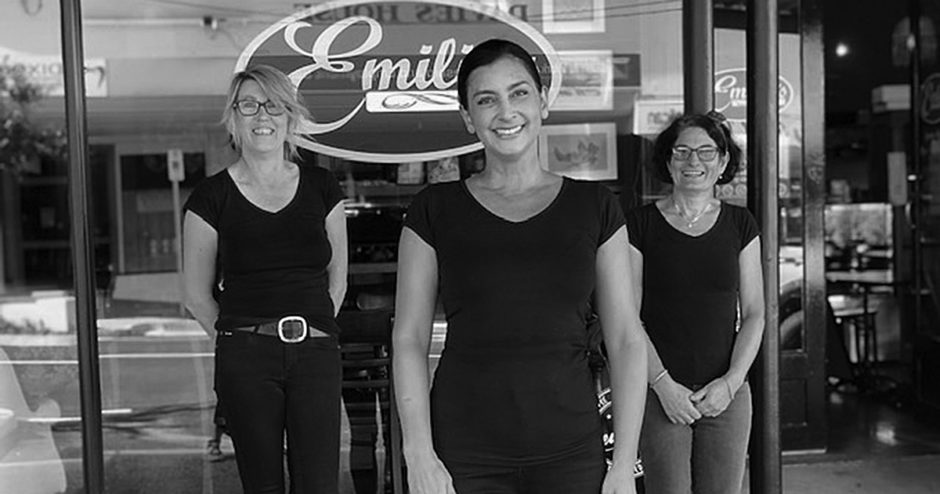 Café innovates to flourish in the COVID crisis
Posted 07 May 2020
For over 17 years Emilia's Café has been bringing a little slice of Italy to the people of Gympie. Since 2003 Emilia's has become a beloved institution in Gympie and has gone from strength to strength.
Based on exceptional service and traditional Italian cuisine, with a creative modern twist, Emilia's has been a remarkable story of local success.
But even a strong business, like Emilia's, has faced a reckoning with the advent of COVID-19 and the downturn in business it has brought with it.
Owner Jodi Giorno recalls not being too concerned initially.
"We had a strong business and I expected some downturn, but I had no doubt we would continue to trade," Ms Giorno said.
But then government restrictions were put in place effectively shutting down the business.
"That was a gut punch," Giorno recalls. "All of a sudden it seemed 17 years of hard work had been swept from under my feet."
A chance to pause and rethink
"When the restrictions hit I had no choice but to close the doors. I had to stand down my staff. Some of them had been with me since the beginning," Giorno continued.
"It was heartbreaking and initially I really felt for myself and the business. But eventually, I realised I didn't want to give up that easily," she says.
It's a decision she thinks other people in the hospitality industry can make.
"I needed some time to take stock and get over the shock," Giorno explains. "But once I did that and realised we had to make this work I looked for the help and advice I needed".
"This became all about trying to think about what I could offer, that would work, and stay true to what we have done for 17 years. I had thought of offering a takeaway option of our regular menu items but I just couldn't see how that would work. The dishes just weren't suitable."
It was at this point she started discussing her plight with the business advisors at RG Strategic.
A new approach and a new offering
Principal Russell Green suggested that Jodi review what she wanted to do. If the menu didn't work as takeaway, perhaps a different menu would.
"Our discussion really focused around what Emilia's offering could be in light of the current situation," Green said.
"The biggest challenge was to ensure the business innovated itself out of the trading halt," Green continued. "And it needed to do so in a step-by-step approach to ensure the change is manageable".
Giorno and RG Strategic determined that a new menu could work as a takeaway option but it needed to be developed considering old favourites and Emilia's origins. It also needed to consider the sourcing and costs of produce and product, and of course preparation time and serving options.
"We even went as far as determining that the offering should have the least reliance on cutlery as possible," Green said. "Emilia's wanted an offering that people could pick up and eat on the run but was a step above the usual takeaway food options around".
"We knew that just doing a limited takeaway on certain days wouldn't be enough. Jodi not only wanted to ensure her café remained viable during this time, but she also wanted to try and ensure her staff were kept employed for the duration," Green stated.
"As soon as the government announced the Jobkeeper packages I brought back all my permanent staff. I wanted them to be part of the discussions for how we could move forward," Giorno said.
With the team in place, Giorno could now focus on formulating a strategy to continue to trade and ensure her staff retained employment.
"We came up with all sorts of ideas but we stuck with what we know best. So we developed a plan to supplement a new takeaway offering with take home pre-prepared meals and other products that has become our 'Emilia's a casa' offering," Giorno said.
RG Strategic also looked at how extra value could be added to Emilia's business.
Changes to liquor licensing provided new opportunities
"RG Strategic helped us identify an opportunity to offer alcohol as well, and they helped us negotiate the liquor licensing laws and application process."
Green made the suggestion when he realised the dishes on offer deserved to be paired with quality wine or beer.
"Having kept in touch with the Office of Liquor and Gaming Regulation I knew that they had seen a reduction in demand as well. This allowed me to navigate the process and get a liquor license for Emilia's in just three weeks," Green said.
"The relaxation in licensing the government has brought in allows more businesses like Emilia's to offer alcoholic beverages that complement their takeaway menu," Green said. "It just made sense," he concluded.
Emilia's reopened last Thursday (30 April) launching the new menu and offerings. Giorno has been delighted with the support of the local community.
"It's remarkable," she said. "To go from not knowing how we would be able to survive, to changing our offering and having it be such a success in such a short time is amazing and RG Strategic has been instrumental in that success."
Being able to sit external to the day to day running of the café, RG Strategic was able to review the past, understand the passion and commitment, and offer a different perspective to a long-trading, traditional hospitality business.
"RG Strategic allowed my team and I to focus and take care of what we needed to do, while they considered the immediate, medium and ongoing strategies we would need and helping push through things that were outside our expertise," Giorno said.