How do you build an uncompromising dream?
RG Strategic were intrigued when BIRD came to us to help build what can only be described as the finest charcoal chicken shop we have ever seen. This is their story.
BIRD came to RG Strategic with an uncompromising dream.
It was a dream borne from what some would call a macabre vision… but it has delivered what is undoubtedly Noosa's best takeaway chickens.
Chris and Peter spent over 65 years in the fashion industry between them. When their last fashion project finished, they looked at each other and knew they were done with fashion.
"It was a great ride," Chris says. "But it was time to do something different."
The question was what.
A love for food and a macabre obsession becomes the inspiration.
"We have always loved good food. In the past, I have helped friends with catering businesses and worked in restaurants at times. I have always loved cooking for myself and my family," Chris says.
"When we decided to call it quits on the fashion industry in Sydney, we knew we could only move to Noosa. It's the one place you can get really good food," she continued.
In discussions around what Chris and Peter were going to do next, food was at the core. And importantly, discussions kept coming back to Peter and his somewhat macabre inspiration for the next step in their business careers.
"I have always said that if I was on Death Row, my last meal would be a real charcoal chicken, a baguette with smoked butter and a fine bottle of burgundy," he jokes. "And when we came to Noosa, we realised no one was doing really good, authentic charcoal chickens."
Knowing what you don't want
"When we first started looking at this idea, we knew what we wanted. We also knew what we didn't want," Chris says.
"We didn't want to be on Hastings Street. It is too hard to get the facilities needed for a charcoal shop, but we wanted something that felt more 'local'. We live here now and we want to be involved with the local community. And that's when we found this site," Chris says.
The site is a small shopfront in Noosa Junction previously used as a hairdressing salon. It is nestled amongst other restaurants and bars and seemed like the perfect location.
Where to start building the dream
Chris and Peter knew now was the time they needed help to progress the dream.
"We needed help with all the planning applications, the design and fit-out of the shopfront. And we needed someone up for a challenge because we found and bought this charcoal rotisserie in Spain we were getting shipped over. We had no idea how it was going to go in the shop," Chris says.
Chris and Peter finally found someone when they were speaking to the owners of Puncheur Coffee Roasters who recommended Russell at RG Strategic.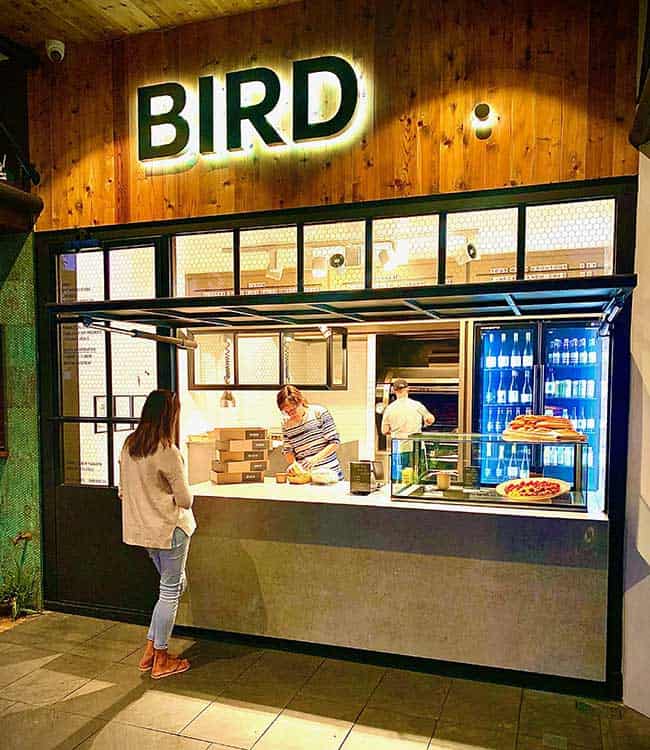 Intriguing challenges
"I remember when Chris and Peter came to us," Russell Green, Director of RG Strategic town planners, says.
"They had this really focused vision of what they wanted to do, which I loved. And then they had this crazy charcoal rotisserie from Spain, which they needed to accommodate in the shopfront they had found," he continues.
"I was intrigued, to say the least."
"Russell was brilliant with everything," Chris says.
"We had to fit in the rotisserie and get extraction sorted for it. We needed a cold room space as well, and there were issues with plumbing and even 3 phase power which we needed."
"The lease we signed stated that 3-phase power was available, but it wasn't, so we had to wait to get that sorted as well."
"But working with Russell was a breeze," Chris says. "We were still running the other fashion business at this stage. So we had to be careful. We weren't on-site every day. But we just let it run, and they all knew what to do. It was a very pleasant experience."
Chris also says that perhaps RG Strategic was too efficient.
"I saw this email from Russell one day to Peter saying that our liquor license had been approved. I knew nothing of it. But Peter had apparently asked Russell to apply for a liquor license for us. That was a surprise, but now we are the only chicken shop in Noosa with a liquor license."
"It was a delight working with Chris and Peter on BIRD, but there were certainly some issues to solve," Russell says.
"It was a small old tenancy and we had to work closely with the building owner to overcome some issues we discovered during the process."
"There were termites, asbestos, and insufficient power. We also had issues with construction going on at the tenancy next door at the same time. This caused some headaches in terms of site access. But Build4U was commissioned to do the construction and fit-out, and they did a great job dealing with any restrictions and issues we came across."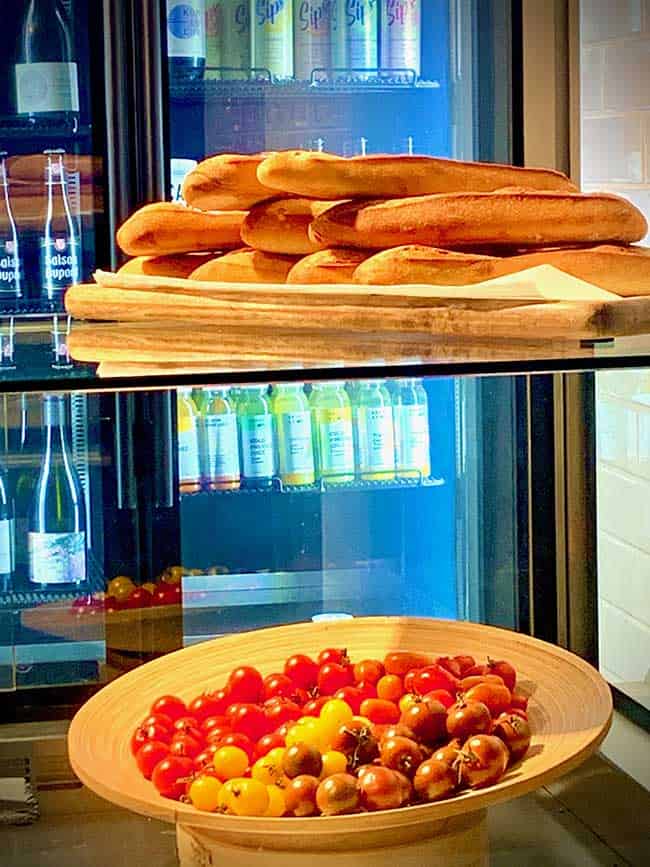 "The liquor license was an interesting development," Russell says.
"In passing, Peter asked if he could sell wine to take away. We knew this could be achieved in an off-premises liquor license where the sale of wine, cider, or beer with a meal to take away could be achieved. So that's what we suggested. What we didn't know was that this wasn't part of the agreed vision between Chris and Peter. Not sure that was Peter's best day. But it does mean that BIRD is the first takeaway chicken shop in Noosa to have a liquor license."
Local architects Zest Design committed Chris and Peter's vision to paper. With a background in interior design, Peter already had a clear vision for how the shop should look, and there was no expense spared. From the "chicken-wire" windows, the single hydraulic lift front window, the substrate for the counter, the unique subway tiles on the walls to the amazing rotisserie centerpiece. Zest's biggest challenge was fitting all the facilities and amenities needed in the shop around the rotisserie.
Of course, a bigger issue for everyone was getting the rotisserie into the shop when it finally arrived from Barcelona.
"That was an exercise in itself," Chris says. "We had to get it off the truck and then into the shop. This meant that we had to get it in before we finished building the front counter."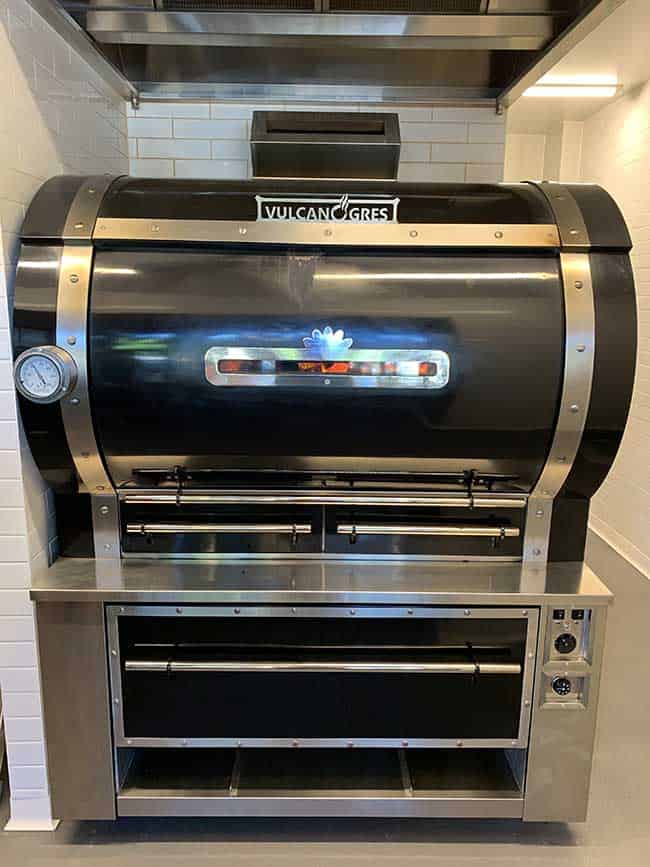 A bird delivered with a singular vision
BIRD is now operating and offers a true representation of Chris and Peter's uncompromising dream.
They sought out the best free-range chickens from Elgin Valley, crusty baguettes from Tanglewood Organic Baking Co., and a selection of wines selected by Peter for their quality and ability to complement the smoky yet delicate flavour of the charcoal chickens.
To give the right smokiness, Peter has sourced a range of charcoal, including mangrove charcoal. This is sorted and stacked by size to allow the perfect stoking of the charcoal rotisserie every morning when the first batch of chickens go in the oven.
Chris prepares the smoked butter in-house and a single daily salad based on the freshest in-season produce. Their gravy is also made in-house using the drippings from the cooking birds to give it a rich homemade flavour complementing the roasted chat potatoes perfectly.
"You must try the potatoes," Chris says. "We cook them in the rotisserie along with the chickens. They get so crispy and full of flavour."
"We don't cut corners. We are not that kind of people," Chris says.
The simplicity and quality of what's on offer at BIRD is a testament to Chris and Peter's uncompromising vision. BIRD has added yet another dimension to the food offerings at Noosa Junction. From the quality of the produce to the lovingly crafted smoked butter, the crusty bread, and a wine selection to suit every budget — including those with expensive tastes — BIRD is a must-try for authentic charcoal chicken.
Ready to build your dream?
RG Strategic is proud to have assisted Chris and Peter with all town planning, plumbing, food premises, and liquor licensing applications.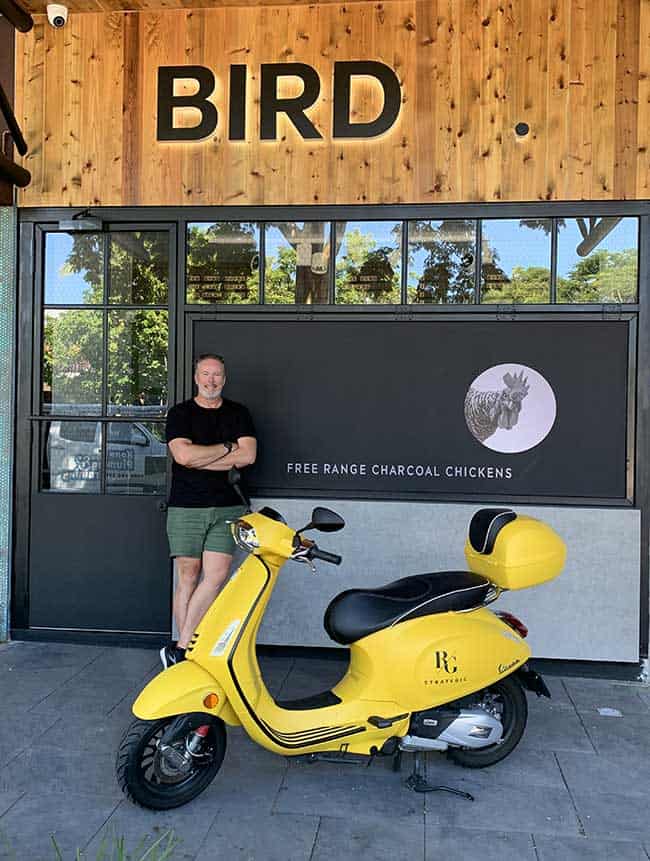 Talk to the expert town planners at RG Strategic today if you have a dream that you wish to make a reality.
For expert town planning assistance and support with your next food or hospitality project, talk to RG Strategic today.
Let RG Strategic deliver your next project