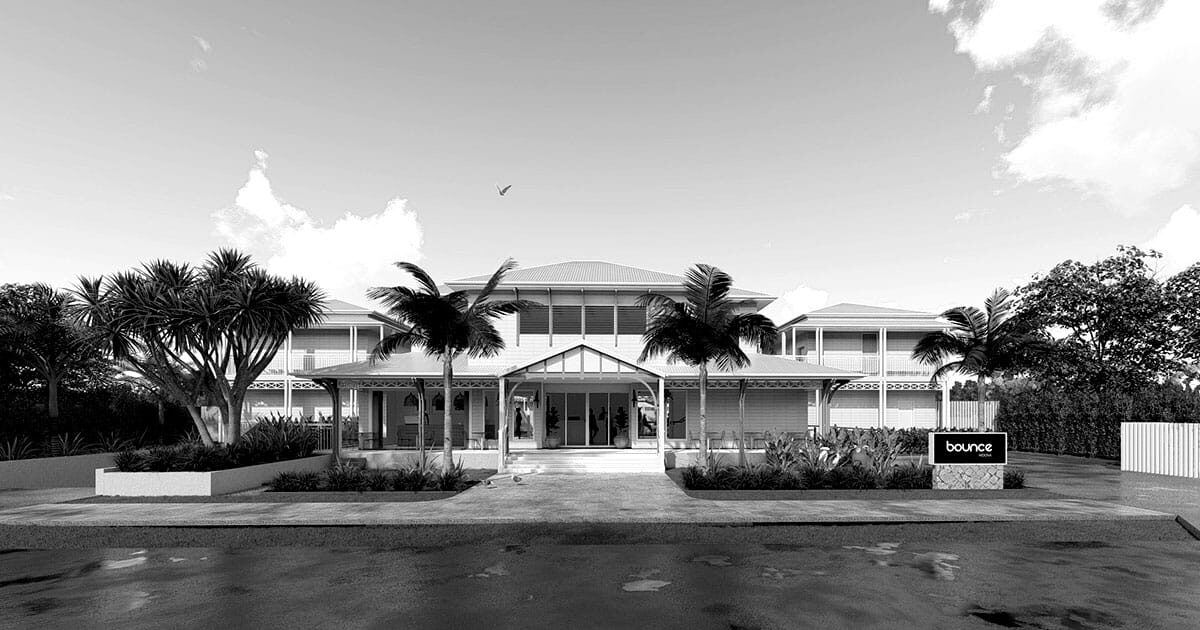 Client Project: Bounce Hostel, Noosaville
Town Planning challenges overcome through creative development solutions.
Client: Bounce Hostel (FUDA Enterprise Group)
Commenced: Material Change of Use (MCU) application lodged June 2018 – Approved March 2019, Operational Works (OPW) application lodged February 2019 – Approved June 2019
Services: Development Approval for Material Change of Use and Operational Works / Liquor Licence / Food Premises Licence / Building Approval / Plumbing Approval
Outline
Bounce Hostel engaged RG Strategic to assist in the development approval, liquor and food license, building and plumbing approvals.
READ MORE: Read our interview with Mark Baldwin, Group General Manager of FUDA Enterprise Group, the developers of Bounce Noosa Hostel
Challenges
A site zoned for hostel accommodation had proved difficult to develop as achieving potential maximum development yields (bed numbers and population) whilst still meeting the Noosa Town Planning Schemes provisions for GFA, Site Cover, and Building Height were problematic. Previous concepts presented by other developers struggled with the notion of supplying grade car parking to meet the town planning scheme requirements and then having sufficient site space left to provide a development footprint that achieved the best yields possible.
Gross floor area and site cover constraints
Carparking requirements
Outcome
Working closely with Bounce Hostel and Noosa Council, RG Strategic were able to creatively address the constraints on the subject site to ensure a viable development project for Bounce Hostels.
While the site was comprised of two lots, each lot was allowed a maximum building size (GFA) restricted to 600m2. This restriction didn't allow Bounce Hostel adequate capacity, in a traditional form, with their offering of larger rooms and bigger amenity spaces.
RG Strategic developed a solution to the building size parameter of the Noosa Plan and requirements set by Council which in turn helped improve the viability of the project for Bounce.
RG worked on delivering four building pods to meet the density and site cover provisions, and overcame a tricky build over sewer challenge towards the rear of the block.
This "pod" style building layout gave Bounce Hostel the development yield required, met council's requirements and was in line with their planning regulations.
To address car parking requirements, RG proposed the development of underground basement car parking, the first in Noosa, and addressed a flooding concern by proposing the installation of an innovative flood barrier.
The barrier, developed by Flow Defence in Australia, allowed Bounce Hostel to provide the required car parking and ensuring the site aboveground stayed sympathetic to the locality and environment.
RG Strategic chose the Flow Defence flood barrier for its ease of installation and importantly ease of maintenance and operation.
The town planning and building development solutions RG Strategic generated, ensured project viability for Bounce Hostels while meeting the needs of council and the surrounding community.
The project is scheduled for completion in late 2020.
From the Developer
"Developing a property like this is a complex process that is constantly changing. RG Strategic literally held our hand through the whole process. Great communication, incredible patience and constant support. I would highly recommend Russell and his Town Planning team from RG Strategic. They truly have played a big role in getting this project to where it is today."
Mark Baldwin – Group General Manager of FUDA Enterprise Group – Bounce Hostel
READ MORE: Read our interview with Mark Baldwin, Group General Manager of FUDA Enterprise Group, the developers of Bounce Noosa Hostel
Let RG Strategic deliver your next project