Insights
Creative thinking, implementing strategies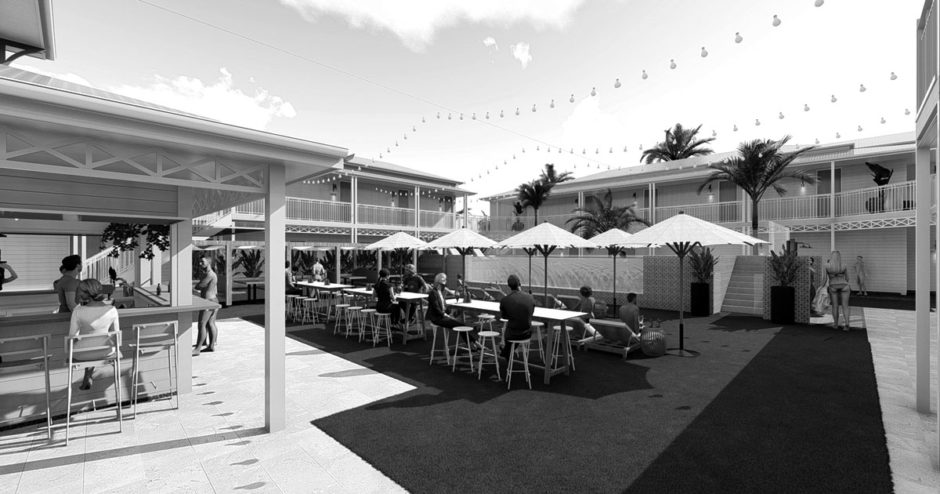 From problem site to a development winner
Posted 25 May 2020
When Bounce Noosa Hostel was looking for a Town Planner to help them develop a prospect site in Noosaville, they turned to RG Strategic to help solve what had proved too big a challenge for others.
RG Strategic's Managing Director Russell Green sat down with Mark Baldwin, Group General Manager of FUDA Enterprise Group, to talk about the project, the challenges and the outcomes.
The site, at 14 Mary Street, had traded from the 70s as a transport depot. It later became a busy mower shop and eventually the home to the surfing institution that is Noosa Longboards.
The site was zoned specifically for hostels, but different elements had always made it challenging to achieve a viable yield for other developers.
Bounce Hostels offer upmarket accommodation for budget travellers and the adventure tourism sector and have hostels around the country. Noosaville is next on their list.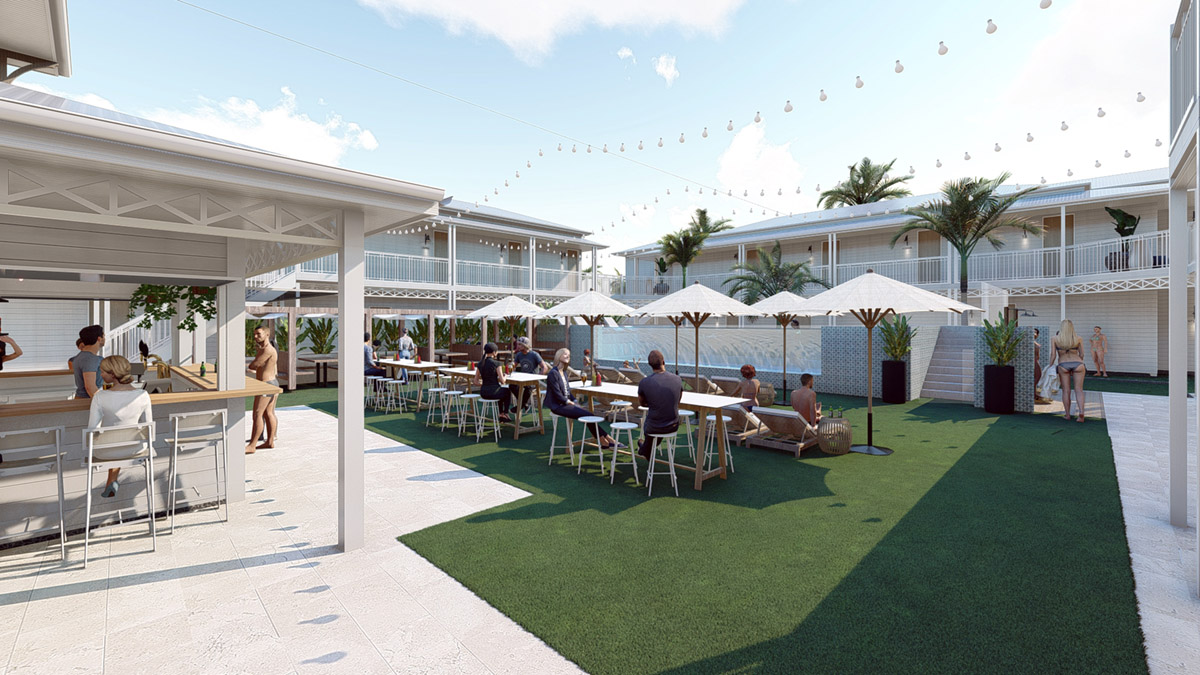 READ MORE: See our Town Planning Case Study of Bounce Hostel.
RG Strategic: What made you choose Noosaville as your next Bounce Hostel site?
Mark Baldwin: We were looking at other properties in other locations at the time, but it doesn't get much better than Noosa, and we were very excited to secure the site.
Having such a strong marketing body in Tourism Noosa is key. I know from many years in the Youth Tourism sector that Tourism Noosa has a fantastic focus on youth. They understand its importance and the revenue it can bring to any destination. This is definitely not the case in other towns and cities.
RG: When did you obtain the site?
Mark: We obtained the site in February 2019.
RG: What considerations were taken when acquiring the site?
Mark: Project viability is the greatest factor in any development. We are still only in the early stages of building, and there have been so many mountains to climb to get to where we are now.
I have no doubt there will be more issues to face on the way to build completion and in the first few years of operation. As with many businesses, COVID-19 will have a big impact on us, and we are going to have to be very versatile to work our way through it.
RG: What were the challenges specific to this site and what Bounce wanted to achieve?
Mark: There were several challenges we had on this journey. Everything comes down to viability, and there were many obstacles to overcome to ensure there was a match between the project outcome and the site restrictions.
One example from when we were trying to work towards a DA was a regulation that only allowed a building size of 300m2 per lot. As we had two lots, this would have meant a total building footprint of 600m2. Our business model aims to provide guests with the best accommodation experience available. This requires comfortable, sizable rooms and extensive facilities for their enjoyment. 600m2 would not have been enough to provide the level of product we wanted to achieve for the allowable number of guests on this site. RG Strategic managed to find a solution that was supported by council where we would split the building into smaller pods, which was in-line with planning regulations.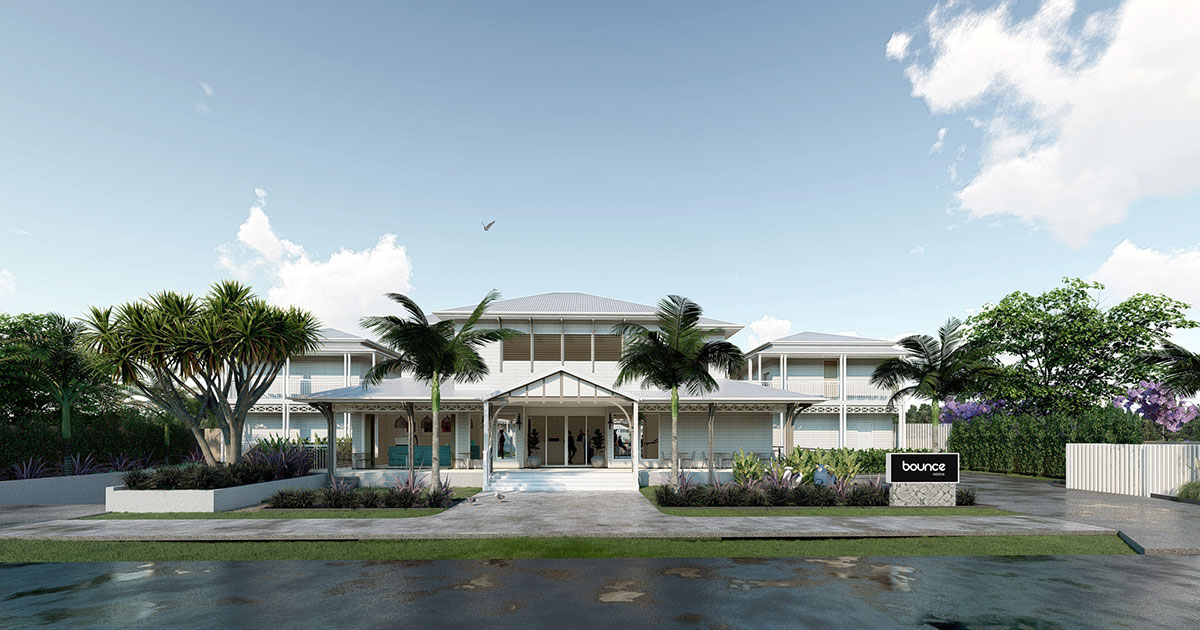 RG: Have your plans changed from the time you acquired the site to now? How?
Mark: No, not much at all. We aimed to design a hotel/hostel hybrid that had a lot of flexible spaces. We know the market will change over the years and we want to be prepared for it.
RG: Why was RG Strategic selected to provide town planning services for the development?
Mark: We initially spoke to a selection of Town Planners and RG Strategic was picked ahead of the rest. Thinking back to that time, I believe that there was a genuine excitement from the principal, Russell Green, supporting what we wanted to achieve. He gave us confidence. He promised he would get the job done and the then went above and beyond to deliver on his promise.
RG: What specific issues were RG Strategic engaged to address?
Mark: They were engaged to get Development Approval then continue to support us through to the completion of the project.
RG: What solutions did RG Strategic propose that assisted with the development and ultimately the commercial viability of the development?
Mark: The one that stands out is the one I mentioned earlier when we were faced with the issue of only being allowed to build a 600m2 footprint on a 1300m2 site. Russell worked through it, found a solution and it was accepted by council. This was an issue that I believe would have stopped us proceeding with the acquisition of the site. Fortunately, we got past it.
There are so many other solutions that have been provided by the team at RG Strategic. We have owned the site 15 months and RG Strategic were engaged 6-8 months before that. There are constantly issues that arise and right behind that are the solutions RG Strategic provide.
RG: How did RG Strategic make the development process easier for the development?
Mark: Developing a property like this is a complex process that is constantly changing. They literally held our hand through the whole process. Great communication, incredible patience and constant support.
RG: Would you recommend RG Strategic and why?
Mark: I would highly recommend Russell and his team from RG Strategic. They truly have played a big role in getting this project to where it is today.
READ MORE: See our Town Planning Case Study of Bounce Hostel.