Insights
Creative thinking, implementing strategies
Plains Junction Shopping Centre Extension Development Application
Posted 13 October 2020
While RG Strategic's town planners are based on the Sunshine Coast we offer our services throughout South East Queensland and further afield.
Our town planning team has been working with Zest Design on a development application for the extension of the Plains Junction Shopping Centre in Browns Plains 24 kilometres south of the Brisbane CBD.
The development application, which has now been submitted, seeks to add two additional buildings to the site extending over the existing car parks.
RG Strategic was engaged to undertake an initial planning review to understand the development opportunities for the site. Prelodgement meetings were held with Council to further expand concepts and Council's requirements. The development application lodged with the Council was the outcome of this town planning process.
Working with Zest we wanted to ensure the new buildings not only blended in with the existing environment but added additional amenity and functionality in addition to the extra floor space and these new renders represent our joint vision.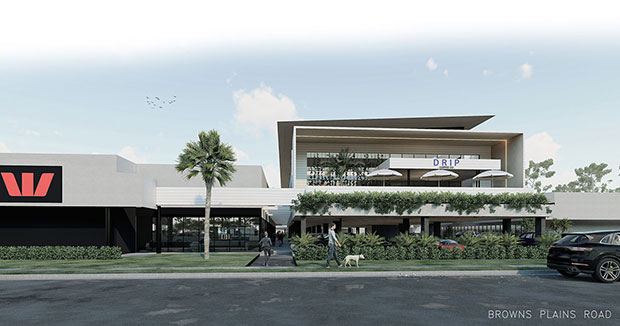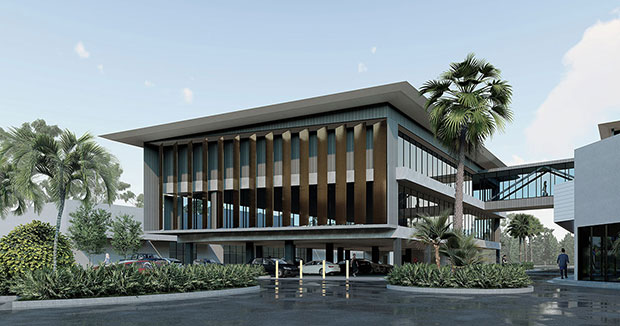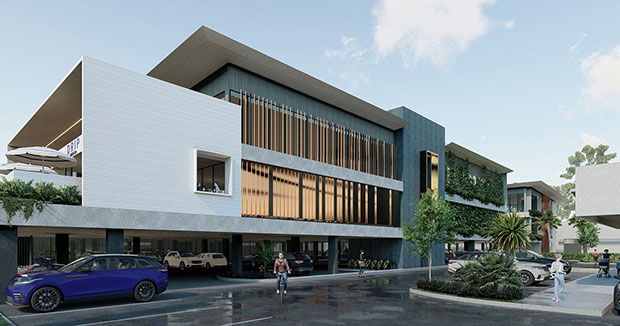 The buildings in the proposed development have wide overhangs and have been designed to fit in with the existing forms but emphasise each building as its own structure. This gives the site a more open feel and we have included large openings giving depth to the façade and ample space for contained landscaping.
Fins have been proposed for the exterior providing additional shade for the sub-tropical environment and well as textural play in the visual component of the buildings.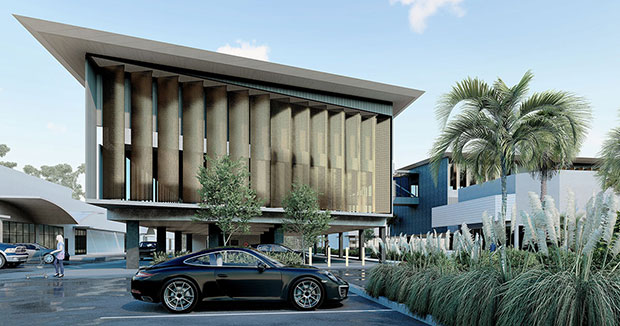 When we work on buildings like these we always like to ensure we provide the community with a building sympathetic to its surroundings. We are balancing concrete forms with lightweight materials giving play and variation to the form and visual amenity. Building plant such as lift mechanisms and airconditioning will be roof-based and screened to minimise any visual impact.
Development Details
– 2 storey building extension over the existing open car park
– An additional 2,906sqm of gross floor area
– Café (256sqm) with 135sqm alfresco dining space
– 344sqm retail space
– 1614sqm professional office space
– New amenities
– Lift access
– Pedestrian sky bridge over common
– landscaping and green walls
– 50 existing car parking spaces retained (undercroft)
– 4 motorcycle spaces (undercroft)
– 14 bicycle racks
Browns Plains
Browns Plains is tipped for growth over the short to medium term. Housing affordability has improved over the past 12 months and has remained steady over the past 5 years with good investor yields.
The owners of the Junction Shopping Centre have recognised this and are responding to increased demand for quality commercial and retail space in the area.