Insights
Creative thinking, implementing strategies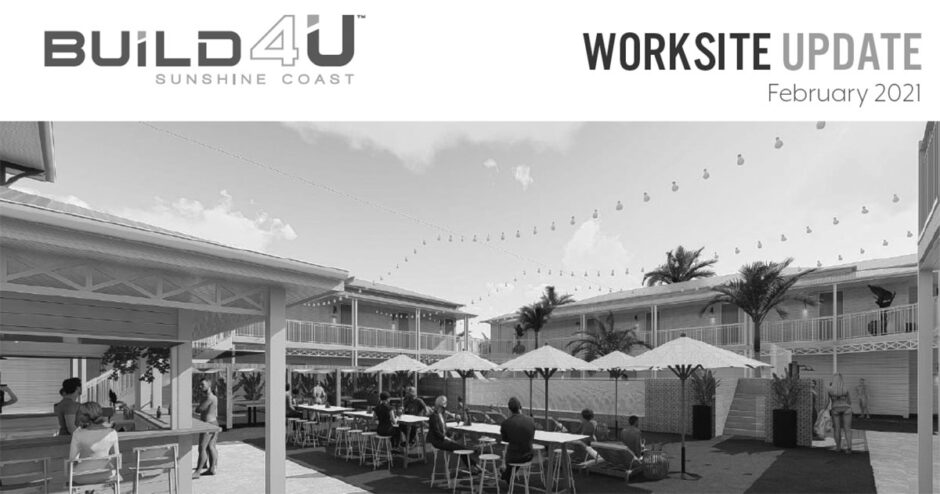 Bounce Noosa Construction Update 5
Posted 25 February 2021
More progress from Build4U commercial builders on the new Bounce Noosa accommodation project in Noosaville.
The manufacturing and installation of all precast tilt panels have now been completed providing us with a two-storey concrete skeleton. The roofing has been installed to the three accommodation pods allowing internal fitout to commence.
Roughing in of all electrical, air-conditioning and plumbing is nearing completion. The scaffold to the outside of the fronts of the pods has been dropped to allow for the construction of the upper-level decks and awning roofs.
All aluminium windows and doors are in production to be ready for delivery and installation in the coming weeks.
The front reception pod groundwork and slab have now been completed. Installation of the pool footings has also been completed.
The next stage of works will focus on:
Upper level decks roofs and awnings to commence this week
Construction of the bunk beads have now commenced
Fitout of all 6 en-suited rooms has been completed with ceiling sheets and cabinetry to be installed in the coming weeks
The construction of the pool is now underway
Fitout of the communal bathrooms is nearing completion
We have just received approval from Noosa Council to start the major roadworks to the front of the property. We will be taking possession of the existing footpath and median next week to commence the reconfiguration of this area.
RG Strategic have been part of the process from the beginning preparing the town planning applications and helping the developer overcome several challenges along the way.
To read more about how Bounce Noosa came to be, check out our case study on the development project here. and our interview with Mark Baldwin, GM of the group developing Bounce Noosa here.